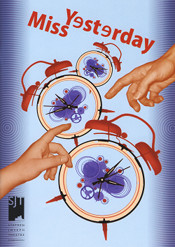 To navigate, use the links in the bar above or in the right hand column.


World Premiere:
2 December 2004

Venue:
Stephen Joseph Theatre, Scarborough

London Premiere:
N/A

Venue:
N/A


Play Number:
68

Published:
No

Other Media:
N/A


Short Synopsis:
After a tragic accident, teenager Tamara is given the opportunity to alter time, but with unforeseen consequences. With the fate of the world in her hands, Tamara must make the hardest decision of her life.


Miss Yesterday
quote

"You've got to be what you are, Tammy. And that's hard because people don't often see you for what you are. They see you as someone they'd like you to be. Want you to be."
Availability
Amateur:
Apply to
Casarotto Ramsay
.

Professional:
Apply to
Casarotto Ramsay
.
All research and original material in Miss Yesterday section of Alan Ayckbourn's Official Website is by Simon Murgatroyd M.A. and copyright of Haydonning Ltd. All other material is copyright of the named copyright holder. Please do not reproduce any material without permission of the copyright holder. For enquiries, email: archive@alanayckbourn.net